Fall Foliage Report
It's not fall in Ithaca without a foliage report. Find up-to-date info on how much our colors are changing throughout fall and plan your next leaf-peeping visit to the area!
Fall Foliage in Ithaca and the Finger Lakes region
Fall colors typically begin to change across the region in mid-September and peak around the second or third week of October. But don't worry too much about exact timing. The Ithaca area has a long foliage season due to its variable terrain and the moderating influence of 40-mile long Cayuga Lake. If you're thinking of a weekend visit, be advised it's a busy time of year as many want to take in the rich fall colors and scenic vistas. Check out availability for local accommodations and book your leaf-peeping visit today. Consider visiting midweek for the best accommodation rates and a more relaxed, socially distanced experience.
October 27, 2022: After a notably colorful October, we are now past peak across Tompkins County. Rust-colored oak leaves will stay with us for a while longer and there are a few more yellows changing. The dark brown of the empty branches and the nearby evergreen trees make the remaining leaves look so much more vibrant.
For updated foliage conditions statewide, visit the official I LOVE NY Fall Foliage Report.
To learn more about The Science Behind Leaf Color Change, read Understanding Autumn Foliage (Cornell Daily Sun, Sept. 2019)
Best Places to see the changing colors: 
The Cayuga Waterfront Trail running from Cass Park to Stewart Park is flat, accessible and offers beautiful hillside views with a shoreline perspective of some of the late-season changing trees.

From the water aboard the MV Teal with Discover Cayuga Lake! Fall boat cruises are available for learning pods and homeschool groups, as well as socially distanced 1.5 hour fall eco-cruises open to anyone. 

Feeling a little more adventurous, take in the beauty from above and get a view like the one above with Southern Tier Balloon Tours.

While driving along the Cayuga Lake Scenic Byway around Cayuga Lake. Take your time and stop in at any number of wineries, cideries, breweries and farms along the way. 

The overlook at Taughannock Falls State Park, or as you hike or stroll among any of the more than 150 waterfalls all within 10 miles of Ithaca.

Stroll through the Cornell Botanic Gardens for the latest seasonal blooms and foliage views. 
Foliage Progress: see how the colors changed in previous years
View from October 31, 2020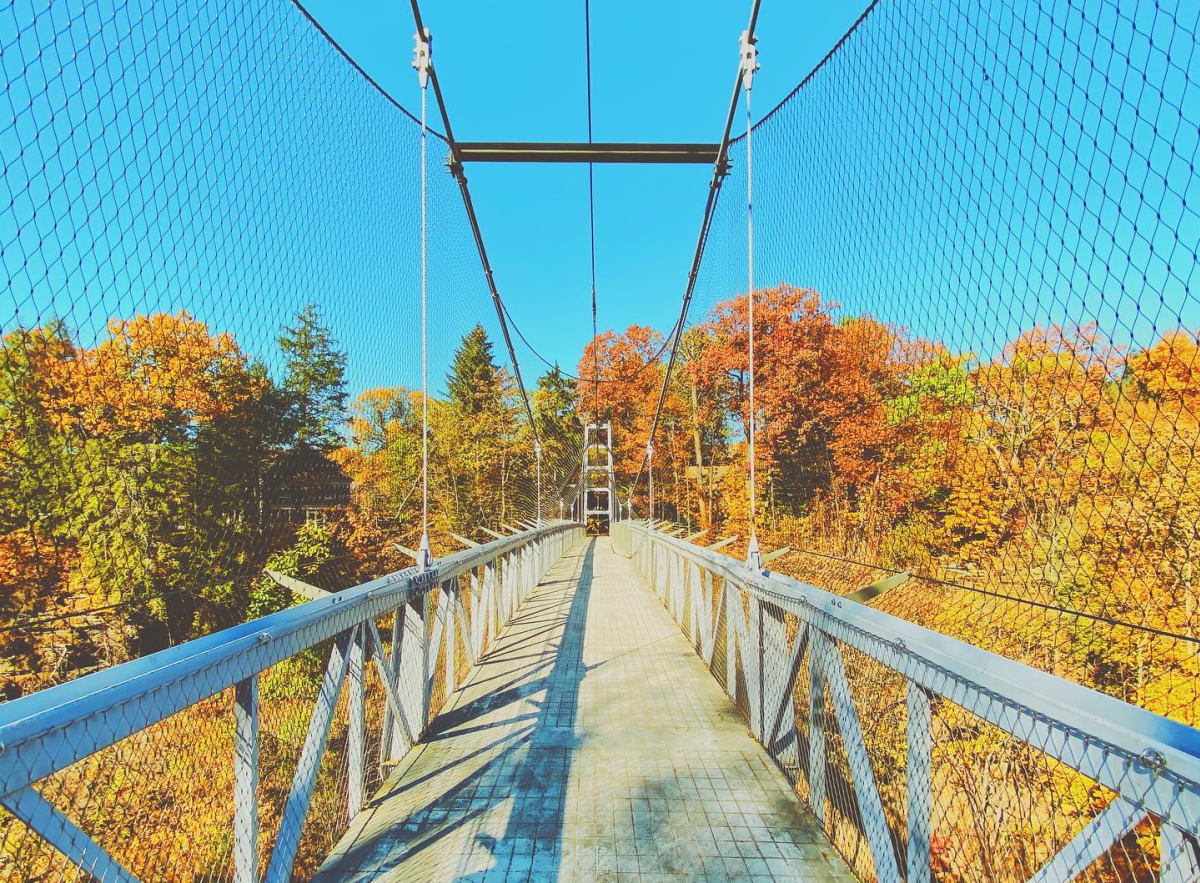 View from October 14, 2020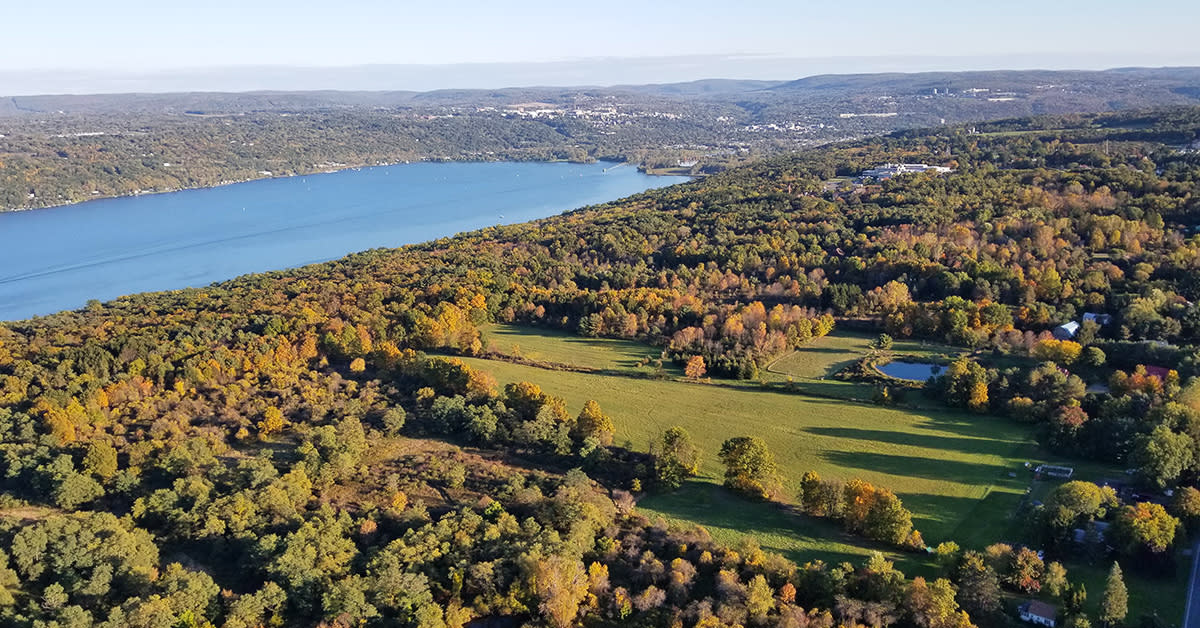 Get your Free Waterfall Guide
Finding waterfalls in the Ithaca area is easy with a free waterfall field guide. The full-color guide highlights public-access waterfalls, gorges and hiking trails in and around Ithaca and Tompkins County. Sites range from 215-foot tall Taughannock Falls, to the cascading series of drops at Buttermilk Falls, to the 25-foot Potters Falls, a "local secret" in a hidden wildflower preserve. Pick up your copy at one of the Visitor Centers, view it online or get one mailed directly to your door.