Ithaca's Cider Scene
With 10 craft cideries in a 30-minute drive, Ithaca is an epicenter of craft cider. A visit to Finger Lakes wine country isn't complete without visiting the cideries as well. Ithaca's craft cider scene has been silently growing and captivating new audiences for the past two decades. From the Ithaca Farmers Market to locally-sourced restaurants and the orchards themselves, cider experiences are all around you in Ithaca.
The Finger Lakes — FLX — is among the most dynamic fruit-growing regions in the U.S., with special soils and a unique microclimate. The wines grown and produced in the Finger Lakes have already gained wide acclaim. What's lesser known — but growing in reputation — is that the FLX is also one of the very best cider regions in the world.
FLX cider has character. While each Finger Lakes cidery has its own style and creativity, there is a common purpose here, to make honest cider. Cidermakers here, growing out of the greater Ithaca area, have agreed on a set of principles, committed to bottling with label transparency. 
FLX cider starts in the orchard. In the Finger Lakes, cider starts in local orchards, with special apples grown with care. There is a long tradition of orchard-keeping and cider mills here dating back to the early days of the nation. Too many modern, mass-market ciders are made from apple concentrate, derived from unspecified apples with no sense of place. That's not how we do it in the Finger Lakes. 
FLX cider is made from cider apples. Just like you can't make great wine from any old grape, you can't make great cider from the same culinary apples you buy in the supermarket. Great cider requires unique apple varieties, with names you may have never heard before: sharps like Ashmead's Kernel or Wickson Crab, bittersharps like Kingston Black or Porters Perfection, bittersweets like Ellis Bitter or Chisel Jersey, local New York heirlooms like Northern Spy or Golden Russet. These varieties provide the tannins, acidity, structure, and complexity needed to make great cider.
FLX cider has community. Great cider goes beyond the science of climate, soil, and agriculture, into what the French elusively call "terroir." There's a cultural factor, a human element, that involves the vibrant community of cidermakers that live and work in the Finger Lakes.

When you see the FLXCDR seal, you know you're getting true cider.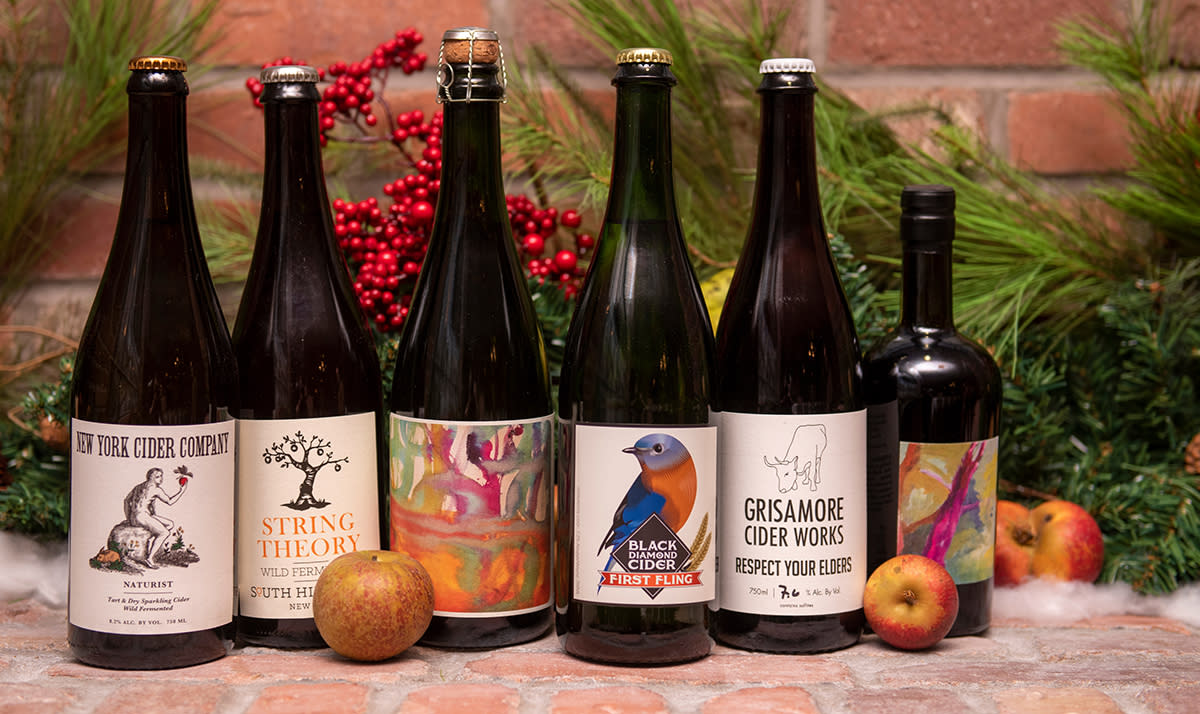 "The Finger Lakes, particularly the isthmus between Seneca Lake and Cayuga Lake, is the most important cider region in the US, with a burgeoning trail of small artisan producers whose focus is on growing cider apples."
- The Finger Lakes Is to Cider What Napa Is to Wine
Visit cideries near Ithaca
For the most up-to-date hours and group policies, please visit the cideries' respective websites and social media pages.
Cider geek or novice, you'll find fun and educational events exploring cider.
Cider Week New York, an annual event in the spring and fall, is a ten day event with orchard tours, exclusive outdoor guided tastings, and cider specials across the area. ciderweeknewyork.com
In addition to the high quality cideries, Cornell University and Cornell Orchards have been conducting extensive cider apple research.
Learn More About Craft Cider
Watch:
Listen:
Hard Core: A Cider Podcast by Heritage Radio Network

6 episode series
Listen to HRN as they visit Ithaca and dig into the question: Can you taste place?

Cider Chat: A podcast for cider enthusiasts 

Episodes 196-204 featuring Ithaca cidermakers