Ithaca is Inclusive
Known for being one of the most progressive and open-minded areas in Upstate New York, Ithaca offers an enlightened demographic of folks who pride themselves on being one of 'The Advocate' Magazine's first "10 Best Cities for Gays and Lesbians to Live". 
LGBTQ-Friendly Businesses
Visitors will find Ithaca is Inclusive window decals adorning the windows of many of the community's eateries, shops and businesses. Inclusive Space Decals are there to welcome LGBTQ people and families into their place of business. The decals were created to help businesses convey and display a commitment to inclusiveness and to welcoming lesbian, gay, bisexual, transgender and queer (LGBTQ+) people and families. Learn more about this community-wide initiative and what this means to the businesses that choose to be involved. Tompkins County businesses can request window clings here upon reviewing the program mission and committing their business to follow inclusive and welcoming practices for LGBTQ+ people and families. Look for this decal at participating businesses: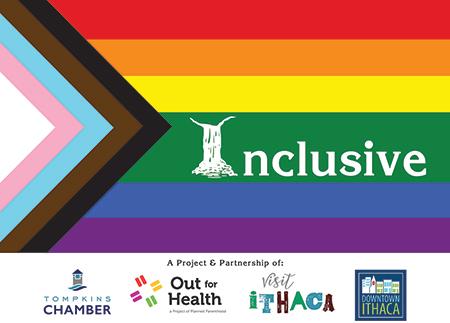 Ithaca Pride 2022
The month of June kicks off with the annual community celebration Ithaca Festival. The non-traditional parade exemplifies the greater Ithaca community's creative expression. In 2022, Ithaca hosted its inaugural Ithaca PRIDE Week (June 26 - July 3) believes PRIDE is for everyone, from families to performers, youth to adults, and Downtown Ithaca will offer activities that everyone can enjoy.
Unique Shopping in Ithaca
Downtown Ithaca Commons is pedestrian-centric with vibrant public art and a variety of restaurants. For family-friendly independent shops with alternative and local options, check out Alphabet Soup, Jillian's Drawers, Ithacamade, and Buffalo Street Books. For tea, coffee, lattes, or sweet treats in a fun, cat-friendly atmosphere, try Alley Cat Cafe.
Summer Boat Cruises
Discover Cayuga offers Sunday evening cruises billed as Club Cayuga, including Rainbow Sunset Cruises throughout the summer. Catch the beautiful sunsets on Cayuga Lake with DJs spinning to set the mood, booking in advance is required.
LGBTQ-Friendly Nightlife
Several Downtown Ithaca establishments promote safe & inclusive evening environments, such as The Range, Bar Argos, and The Watershed.
LGBTQ History Walking Tour 
Bars and public spaces have been sites of LGBTQ resistance and resilience for decades. But many of the people and places that make up our history's shared past have been forgotten, erased, overlooked, or ignored. Students of Ithaca College, along with Luca Maurer, director, The Center for LGBT Education, Outreach & Services created an LGBTQ Local History Walking Tour throughout the city of Ithaca with 32 stops over 7 miles. The tour is available as a self-guided experience through the free app Pocket Sights, with options for users to customize their experience.
Planning a visit? See the full up-to-date listing of all accommodations here.