Ithaca, NY Fall Foliage Report
As autumn settles in, the picturesque towns of Ithaca, Trumansburg, and beyond, nestled in the heart of New York's Finger Lakes region, begin the annual transformation into a canvas of vibrant autumn hues. This natural spectacle is eagerly anticipated by locals and visitors alike, drawing nature enthusiasts, photographers, and anyone seeking a dose of seasonal beauty. With a rich cultural scene and a unique blend of geographical features, Ithaca offers an unrivaled fall foliage experience.
For Oct. 2-8 we will see approximately 30% color change across the greater Ithaca area.
When to Expect the Change
The curtain rises on Ithaca's fall foliage show in mid-September and typically, the peak of color saturation occurs around the third week of October. Although Mother Nature occasionally surprises us with an earlier or later performance. It's during this time that the scenery bursts into a symphony of reds, oranges, yellows, and purples, creating a visual masterpiece that blankets the town and its surrounding hillsides.
Thanks to its diverse terrain and the tempering effect of the sprawling 40-mile-long Cayuga Lake, the Ithaca area enjoys an extended foliage season. If you're planning a weekend getaway, be prepared for a bustling atmosphere, as many seek to immerse themselves in the vibrant autumn hues and breathtaking vistas. Secure your lodging early to ensure availability for your leaf-peeping adventure. For a more tranquil, socially distanced experience, consider a midweek visit, offering not only the best accommodation rates but also a more leisurely exploration of the region's natural splendor. 
Best Places to See the Changing Colors
Among the best vantage points to witness this spectacle is the Cayuga Waterfront Trail, a path that meanders from Cass Park to Stewart Park. Its flat, accessible terrain offers not only ease of travel but also breathtaking views of the hillsides, with glimpses of the shoreline framing the late-season changing trees.
Winding along the Cayuga Lake Scenic Byway reveals another enchanting vista. As the road traces the lake's perimeter, travelers are encouraged to take their time, to pause and savor the journey. Wineries, cideries, breweries, and farms line the route, offering a taste of the region's bounty.
For those seeking a more immersive experience, the MV Teal beckons from the waters of Cayuga Lake. Discover Cayuga Lakes offers educational and leisure boat cruises. You can also find cruises departing from the Farmers Market on weekends. And for those in search of solitude on the water, socially distanced 1.5-hour fall eco-cruises are open to all, providing an intimate encounter with the vivid transformation.
For the bold and adventurous, Southern Tier Balloon Tours promise a view like no other. Drifting high above, passengers are treated to an aerial perspective of the landscape, where the brilliant colors stretch as far as the eye can see.
Winding along the Cayuga Lake Scenic Byway reveals another enchanting vista. As the road traces the lake's perimeter, travelers are encouraged to take their time, to pause and savor the journey. Wineries, cideries, breweries, and farms line the route, offering a taste of the region's bounty.
For a more serene encounter with nature's artistry, the Cornell Botanic Gardens awaits. A leisurely stroll through the gardens reveals the latest seasonal blooms, with gorgeous foliage views.
The overlook at Taughannock Falls State Park stands as a testament to nature's grandeur. From this vantage point, visitors can gaze in awe at the majestic waterfall, framed by a tapestry of autumnal brilliance. Yet, this is but one of over 150 waterfalls, all nestled within a mere 10-mile radius of Ithaca, each offering its own unique perspective on the changing season.
How to Enjoy Ithaca's Fall Foliage
Spectacular Scenic Drives 
Ithaca boasts an array of picturesque driving routes, such as the Cayuga Lake Scenic Byway, which meanders along the shoreline, and the winding roads that lead to numerous waterfalls around the great Ithaca area. Each journey promises photo-worthy views, with the surrounding foliage providing an ever-changing backdrop.
Farm-to-Table Delights
Fall in Ithaca also means an abundance of fresh, locally-sourced produce. Tompkins County's farms and markets burst with apples, pumpkins, and other seasonal delights, while its eateries celebrate the harvest with an array of delectable dishes.
Outdoor Adventures
Beyond the visual feast, Ithaca offers a wealth of outdoor activities. Kayaking on Cayuga Lake, hiking through state parks, and exploring the vibrant Cornell Botanic Gardens are just a few of the options available. The crisp autumn air and the crunch of leaves beneath your feet create an immersive sensory experience.
Get your Free Waterfall Guide
Discovering waterfalls around Ithaca is a breeze with our complimentary waterfall guide. This colorful guide showcases easily accessible waterfalls, gorges, and hiking paths in and around Ithaca and Tompkins County. You'll find a variety of sites, from the towering 215-foot Taughannock Falls and the picturesque series of drops at Buttermilk Falls, to the charming 25-foot Potters Falls, tucked away in a hidden wildflower preserve—a true "local secret." Grab your guide at Visitor Centers or view it online. Happy exploring!
Sign-up for the Waterfalls Challenge 
Geographical Charms
What sets Ithaca's fall foliage apart is its unique geographical makeup. Situated at the southern tip of Cayuga Lake, the town is flanked by rolling hills, dense forests, and numerous gorges, each contributing to the kaleidoscope of colors.
The area's diverse range of deciduous trees, including sugar maples, oak, and birch, ensures a broad spectrum of hues. The glimmering waters of Cayuga Lake also play a role, reflecting the changing leaves and enhancing the visual feast.
One of the crown jewels of Ithaca's fall foliage is the renowned Finger Lakes Trail, a 580-mile footpath that spans across New York State. Portions of this trail wind through Ithaca's surrounding countryside, providing hikers with unrivaled vantage points for leaf-peeping.
A Look Back at Previous Autumn Seasons
The Finger Lakes region has a storied history of fall foliage appreciation. Indigenous peoples who first inhabited the area recognized the unique beauty of the changing leaves, incorporating it into their cultural traditions. Early European settlers, too, were captivated by the kaleidoscope of colors, noting it in their journals and writings.
Over the centuries, Ithaca's fall foliage has become a celebrated event, drawing artists, writers, and nature lovers to its hills and valleys. The town's local folklore is interwoven with tales of autumnal hikes, cider-making, and gatherings around crackling fires. Today, the tradition endures, with Ithaca standing as a beacon for those seeking a genuine and awe-inspiring fall experience.
See how the foliage changed in previous years
View from October 31, 2020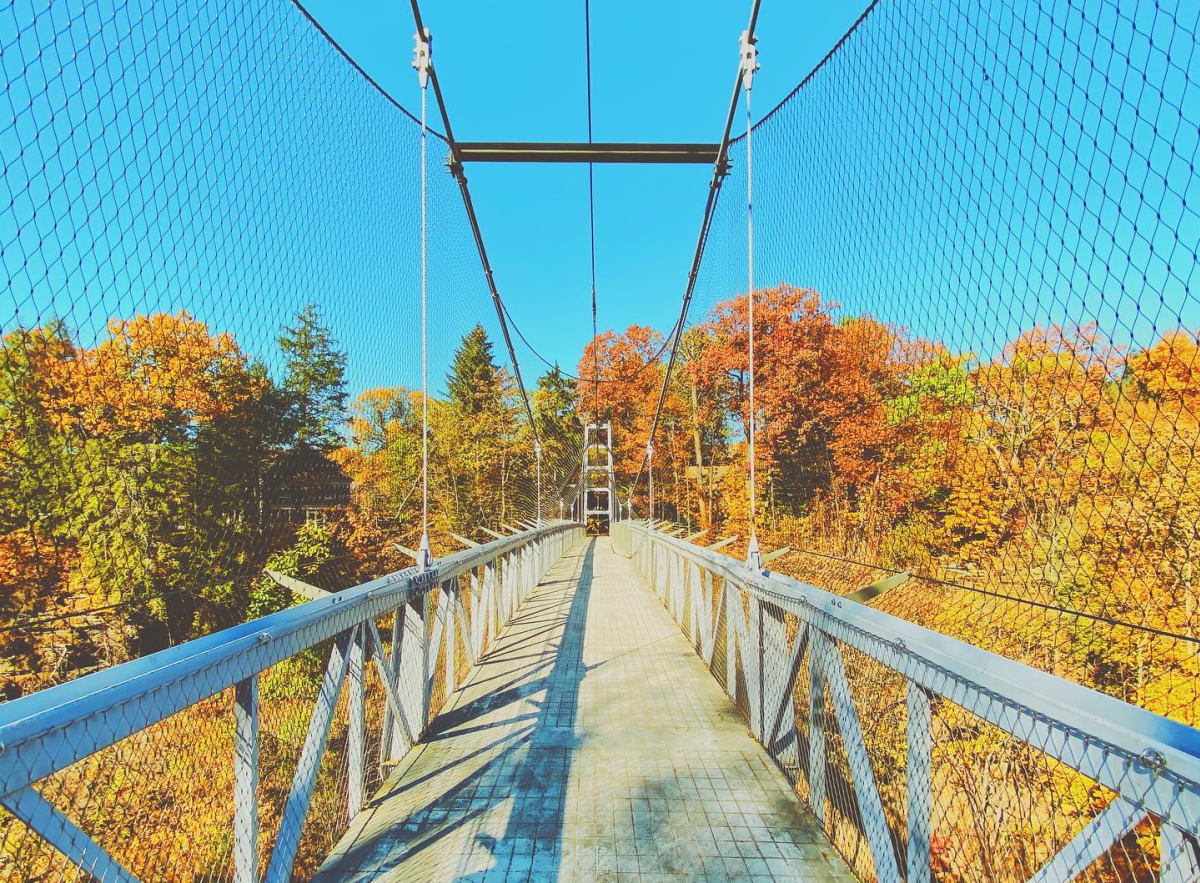 View from October 14, 2020