What if you could park your car and enjoy an entire day of shopping, hiking, theater, music, and dining, all within a four-block radius? The Ithaca Commons – our open-air pedestrian mall – anchors our Downtown district and is surrounded by uniquely-Ithaca attractions within easy walking distance. We've curated a sample itinerary to inspire your exploration!
If you are looking to hit the highlights but only have a few hours, consider attending a walking food tour with Ithaca is Foodies Culinary Tours. Adventurous eaters will love the chance to try generous tastings at six local restaurants and history enthusiasts will enjoy discussion of a dozen local landmarks and cultural points of interest.
MORNING
Start your day off with breakfast at Café DeWitt, just one block from the Commons. Menu staples include baguette French toast made with a vanilla rum batter and omelets with local fillings. On weekends, the simple-yet-classic selections are bolstered by elaborate daily specials. Café DeWitt only accepts cash or check, so discerning locavores should plan accordingly.
You'll find this casual café inside the historic DeWitt Mall – a community of hyper-local shops, eateries and residences established in 1971. The Collegiate Gothic building is a stunning example of historic preservation: it was originally designed by prolific Ithaca architect William Henry Miller to serve as Ithaca's High School, and still bares the school's crest on the western exterior.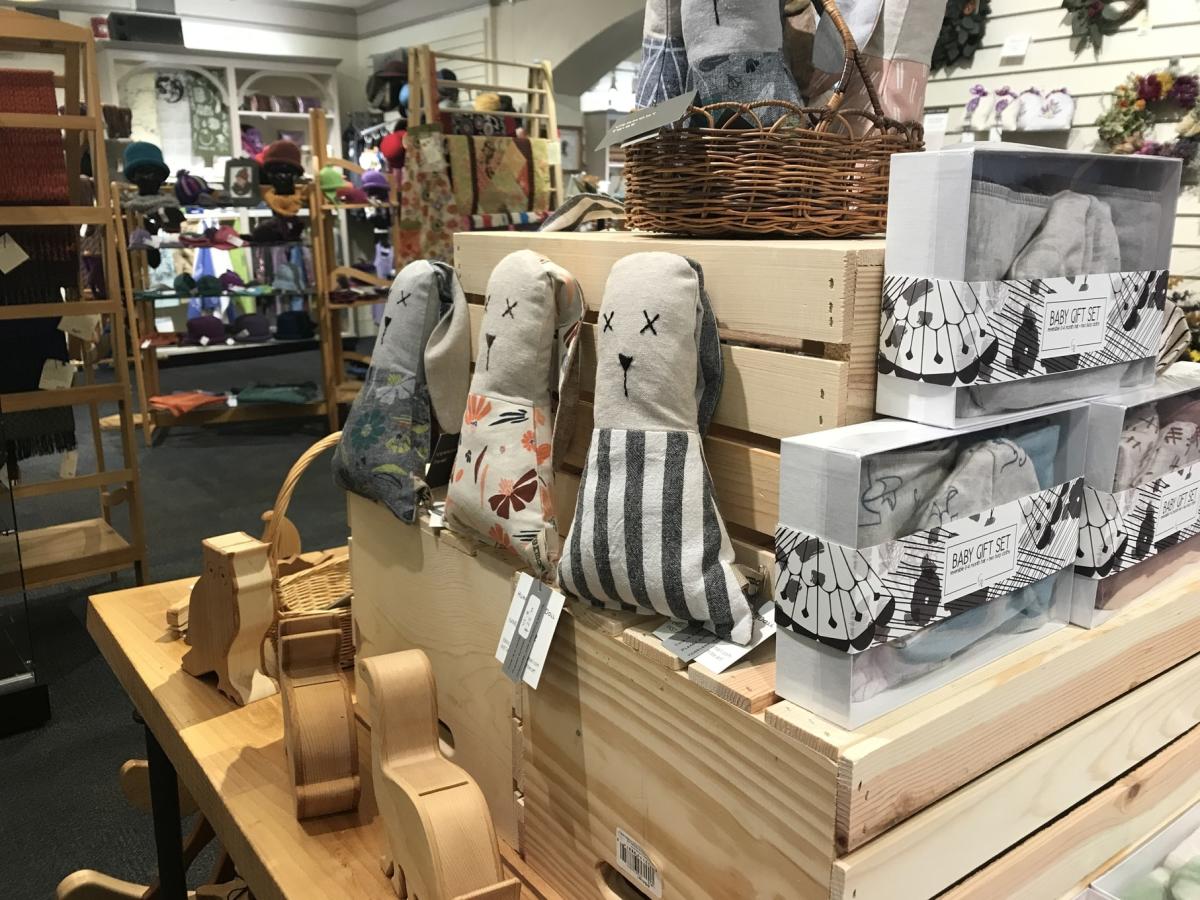 A gorgeous hike through Cascadilla Gorge awaits you a few blocks away at the eastern end of Court Street. Ascending via stone steps and criss-crossing bridges, this immersive trail passes six waterfalls – and you'll want to take frequent breaks just to absorb the scenery.
Staying hydrated is easy, since there's a Collegetown Bagels near both the top (on College Ave) and bottom (North Aurora Street) of the trail. Pick out a beverage named after your horoscope, 90's cartoon characters, or modern pop icons: every Collegetown Bagels location offers a rotating menu of smoothies, milkshakes, and iced or hot coffees and teas. The Alley Cat Café could also quench your thirst with hot and iced coffees and teas – and the unexpected purrk of quality time in separate petting rooms with the adoptable felines of Browncoat Cat Rescue.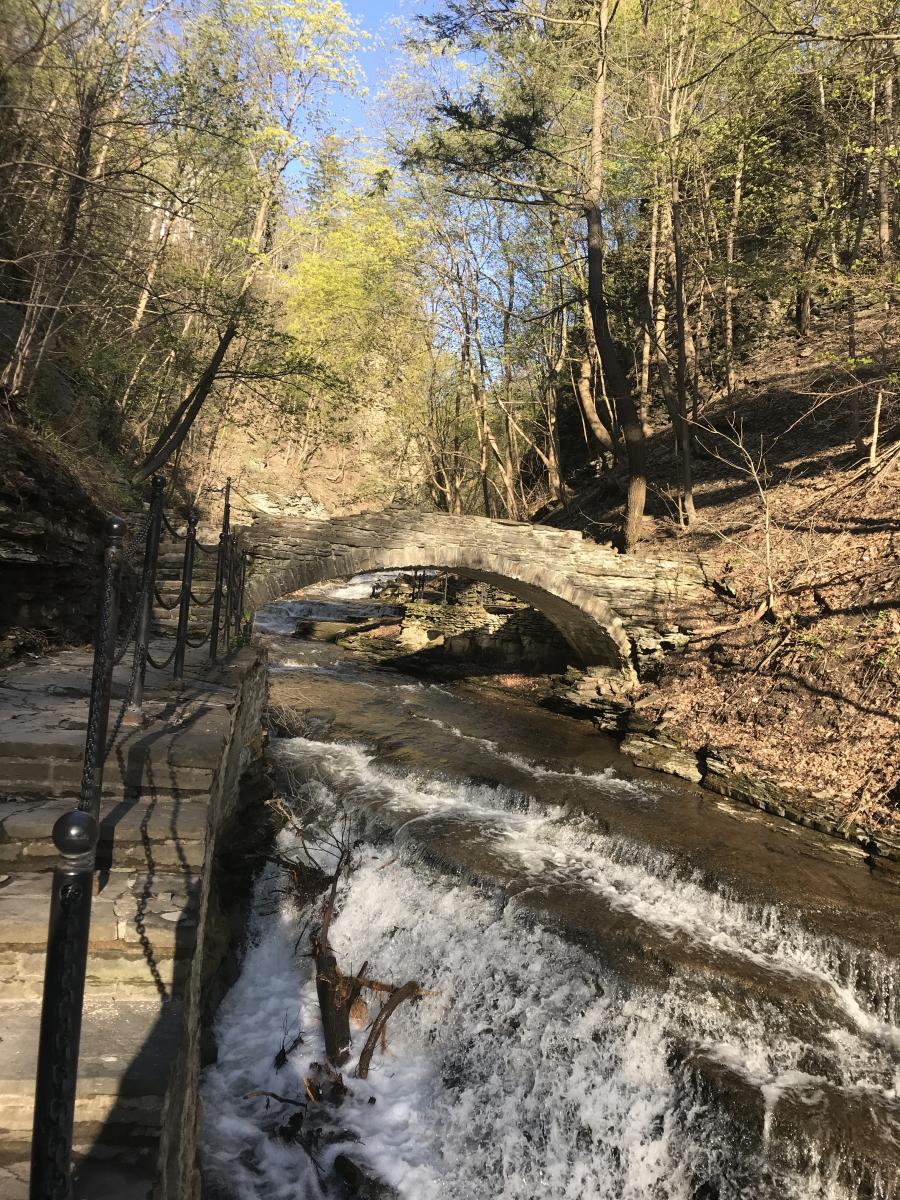 MIDDAY
Now that you've worked up an appetite, make your way back towards the Commons for lunch. For a respite from the heat, venture below-ground to Bickering Twins Restaurant in historic Clinton Hall and enjoy 3 tacos – made with 100% nixtamal tortillas – for $10. If you'd like to sit outside, Moosewood Restaurant – famous for their James Beard award-winning cookbooks – serves vegetarian and seafood entrees on their shaded patio.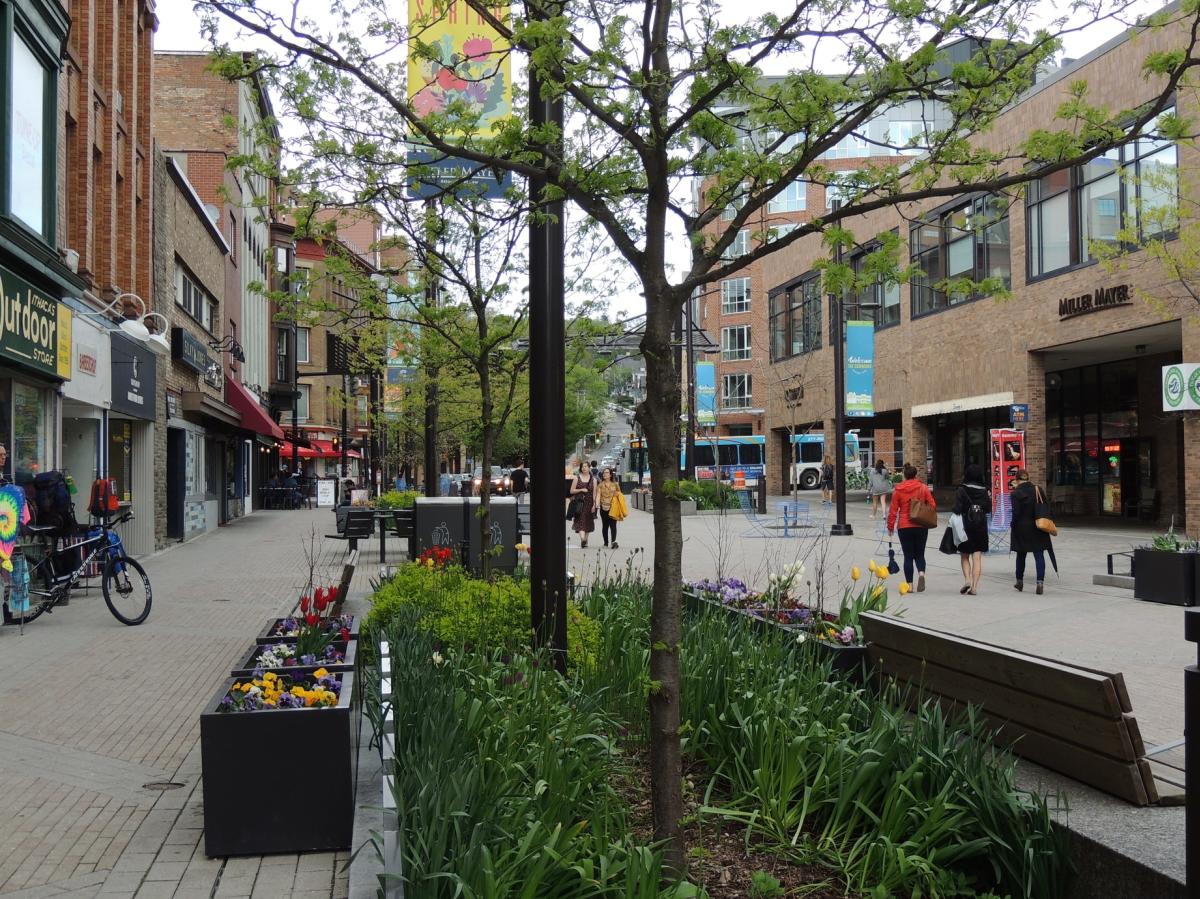 The early afternoon is perfect for a leisurely exploration of the small businesses in and around the Commons. For handmade gifts, visit Handwork – a cooperatively owned gallery staffed by the artists themselves – or 15 Steps – a curated selection of American crafts. Numerous specialty stores cater to every interest: Home Green Home is a wonderland of green living goods, Angry Mom Records buys and sells vinyl of all genres and eras, and Ithaca Sheepskin creates comforting apparel in their cozy studio space.
Not to be missed are the unique array of shops in Press Bay Alley and Press Bay Court. Formerly home to a newspaper's offices and printing presses, these buildings were converted to micro-retail spaces whose lower rents lend themselves well to creative endeavors. Such endeavors include herbalist collective Bramble and bridal boutique Gee June Bridal. A smorgasbord of delectable foods can be found here too: pair a savory hand pie from Mama Said Hand Pies with craft beer from Lucky Hare Brewery, or satisfy your sweet tooth with Sweet Melissa's handmade hard ice cream or a potato donut from One Ring Donuts.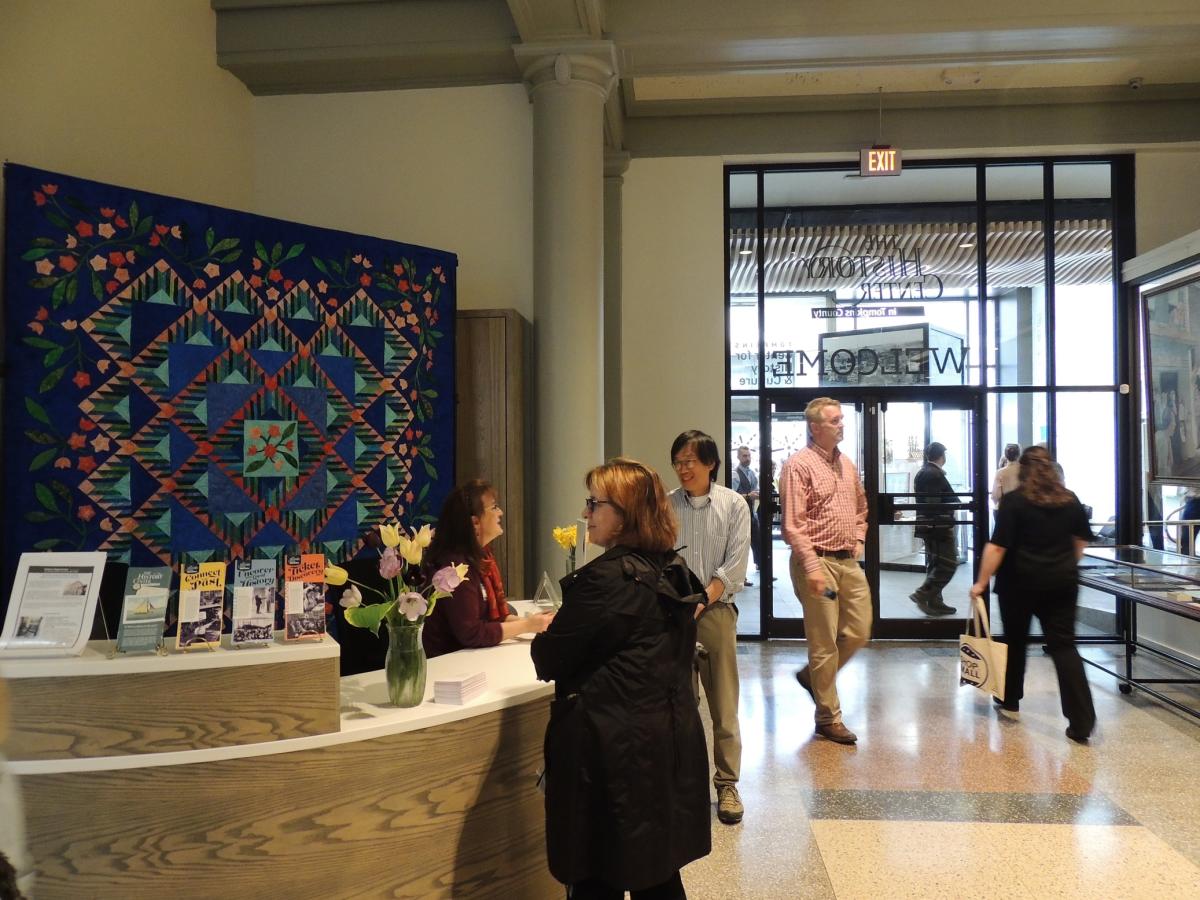 For a peek into the past, step inside the Tompkins Center for History and Culture and explore the History Center's exhibits about life in Tompkins County. In an inspired moment, the bank vault – a relic from the previous tenant – now houses a local timeline. While you're there, be sure to ask the staff at the Visitor's Center about any special events happening while you're in town.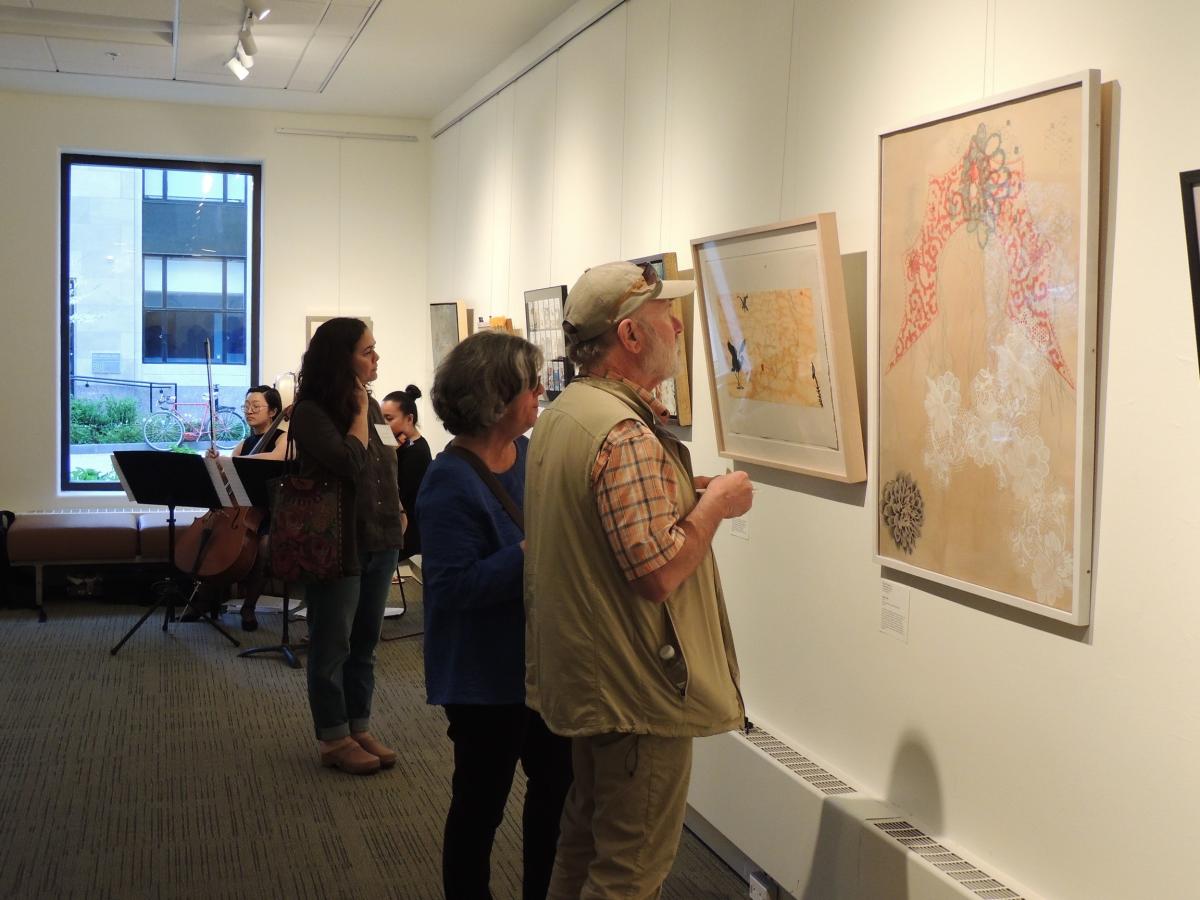 Also inside TCHC is the Community Arts Partnership's Artspace – one of several downtown galleries which mount new exhibits the first Friday of every month during First Friday Gallery Night from 5-8pm. These galleries include the State of the Art Gallery – owned and operated by its 27 artist members – and the first floor of the Community School of Music and Art.
Not all of Ithaca's art hangs neatly on a gallery wall: there are over 150 murals within the city limits! If streetscapes are more your speed, visit ithacamurals.com for a map to guide you. You'll find pieces tucked away in alleys, atop parking garages, and wrapped around electrical boxes.
EVENING
There is no shortage of dining options for your evening meal. On the East end of the Commons is a block of North Aurora Street lined with eateries and appropriately dubbed "Restaurant Row". Casual diners opt for the generous portions of Luna Inspired Street Food or the popular burgers at Ithaca Ale House. If you're the patient sort, consider waiting for a table at highly-reviewed Just A Taste; wine flights and tapas on the quaint back patio is a quintessential summer experience. Satiate a craving for a globally-inspired meal with either the combo platter of traditional dishes at Hawi Ethiopian Cuisine or the Pan-Asian small plates at Mia.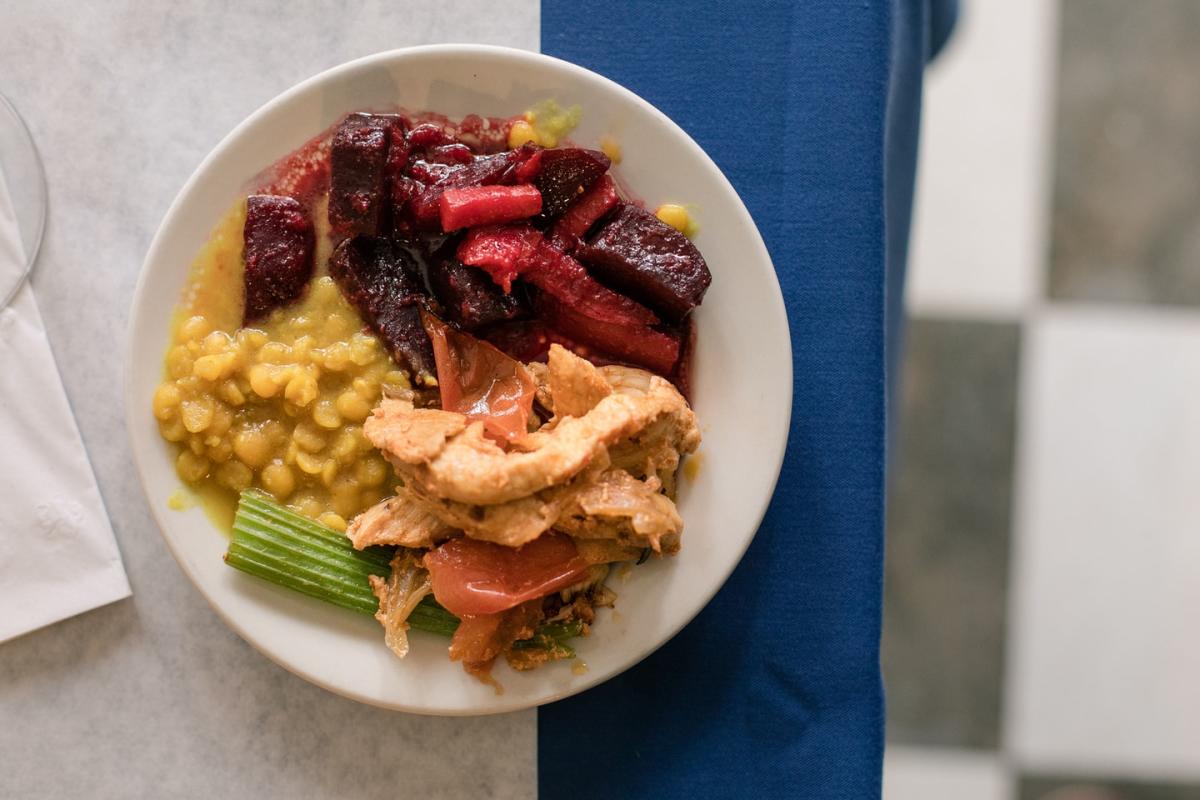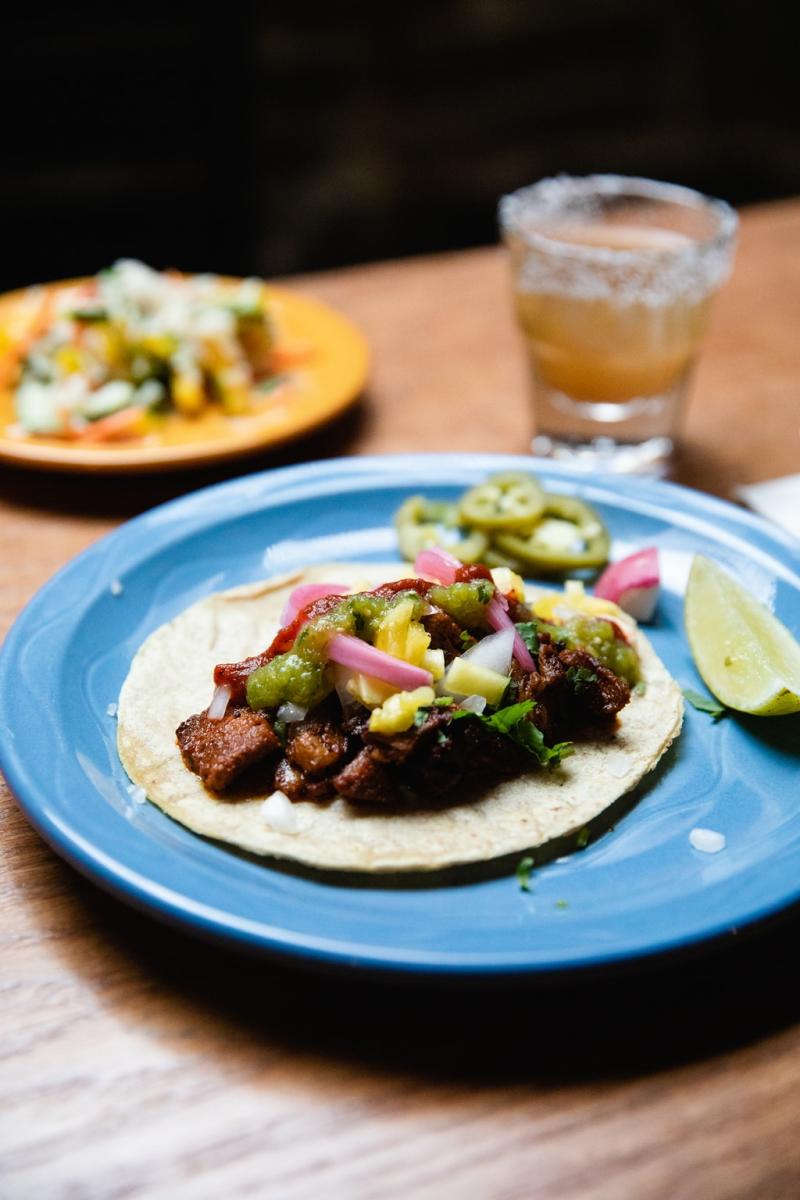 Music and performances usually kick off at this time of night. Monks on the Commons will host singer/songwriters on their patio, and the CFCU Summer Concert Series takes up residence at the Bernie Milton Pavilion every Thursday from 6-8pm. Live shows at The Range include salsa, funk, and drag performances by local drag kings and queens. Downtown's largest venue – the State Theater – books nationally-touring musicians and comedians. If you attend a show at the State, make a point of visiting the balcony – whether or not you're seated there – so you can get a better view of the constellations on the ceiling and the shields framing the stage.
To cap off your day downtown, grab a drink and relax. Popular spot The Watershed curates a conversational atmosphere by eschewing live music in favor of a free book library, and accommodates all patrons by serving both classic cocktails and loose-leaf tea. Bar Argos is a craft cocktail bar located inside the Argos Inn, a boutique inn just one block from the Commons. Their creative cocktails can be enjoyed indoors on chairs upholstered with crushed velvet or outdoors under string lights on the patio. The adjacent Argos Warehouse offers a simpler drink menu and light after dinner fare.